The Ebisu was conceived as a bike that offers a great riding experience combined with satisfying esthetics at a very reasonable price. This is a frame that is suited to serious riding. It offers a lively but comfortable ride. It is versatile, fun on fast short day rides or long tours on back roads. With clearance for large tires even with fenders, it makes a great touring or fire roading bicycle.
Originally, only a couple of models were offered in limited colors and sizes so that frame prices could be kept lower by ordering in quantity. However, over the years there has been a substantial increase in interest in randonneuring, touring and similar types of bicycles. More and more customers wanted custom options, so that currently each bike order is essentially a custom order.
The Ebisu is our main model. There are three starting points: road, all purpose, and fixed gear. These are designed with butted steel tubing, really nice looking cast lugs and forged dropouts. After discussing your desired options and sizing with Hiroshi, your order will be formulated. Some specs such as tubing wall thickness or frame size are included. Certain options will incur extra charges, depending on complexity. Prices are outlined below.
We are also offering a less expensive alternative to the Ebisu called Tonbo. Cost is kept down by using fillet brazed construction (tubes are brazed together without lugs).
EBISU DETAILS
ALL-PURPOSE:
The all purpose is designed to provide a flexible platform for anything from gravel riding to touring to recreational road riding. A mixte version is also available.

1. Hand-crafted lugged steel frame built with Kaisei tubing, cast lugs and forged dropouts
2. Comfortable riding position
3. Stable handling
4. Your choice of 700C, 650B or 26 inch wheel sizes (to fit tires as well as fenders up to 35C, 42B, and 1.75" correspondingly)
5. Rim brakes (cantilevers) Note: braze-on centerpulls are an option at extra cost (see option prices below)
6. Vertical dropouts

Base price, all-purpose frame & fork: $2800

Examples of extra cost options:

Internally wired front fork
Internal brake cable routing in the top tube
Third water bottle cage mounting boss
Different location for a pump peg such as on a seat stay
Any extra braze-ons
Two color paint/special paint (pearl white, etc.)
Custom color is now available at no extra cost for all frames, however, we request that you provide a color chip or sample.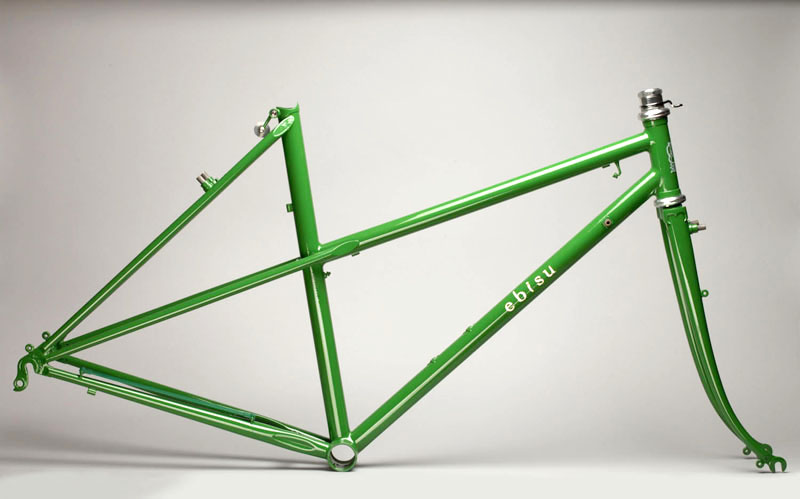 ROAD MODEL:
This frame is designed to be built into a quick but comfortable road bike with clearance for larger tires. We now offer a road mixte version.

1. Hand-crafted lugged steel frame built with Kaisei tubing and cast lugs
2. Your choice of 700C or 650B wheel size (max tire size of 700 X 28C with fenders or 650 X 32B with fenders)
3. Horizontal or vertical dropouts
4. Rim brakes: either sidepull or cantilever brakes. Braze-on centerpulls are an option at extra cost (see option prices below)

Base price, road frame & fork: $2700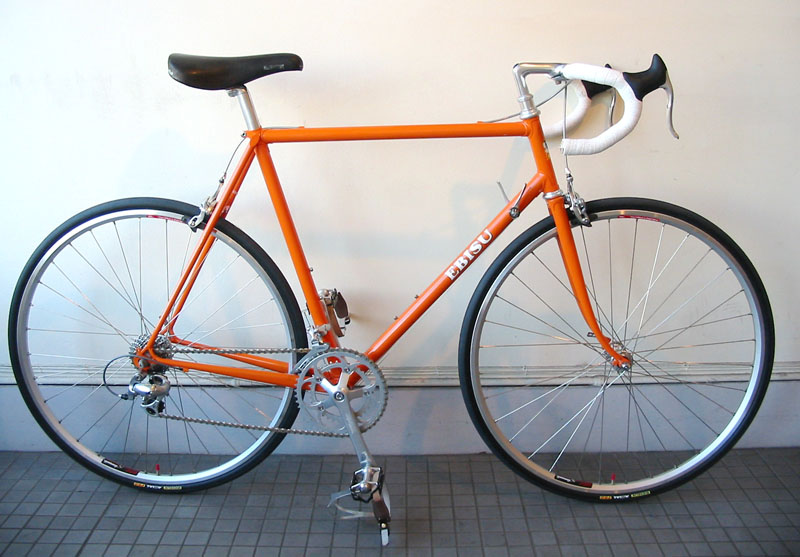 FIXED GEAR ROAD:
With the same geometry as our road model, but without shifter bosses.
Rear dropouts are standard track-style rear facing.
Same bottle bosses as found on the standard road frame
Mounts for side pull brakes
Base price, fixed gear/single speed frame & fork: $2400

Note: for those who want a true track bike (pista), we have an arrangement with Mr. Matsuda at Level. These frames are a special order item. Prices on inquiry.
TONBO:
Very similar in design to the Ebisu Standard (Road, All Purpose and Single Speed), but with a fillet brazed frame instead of lugs. A lower priced option.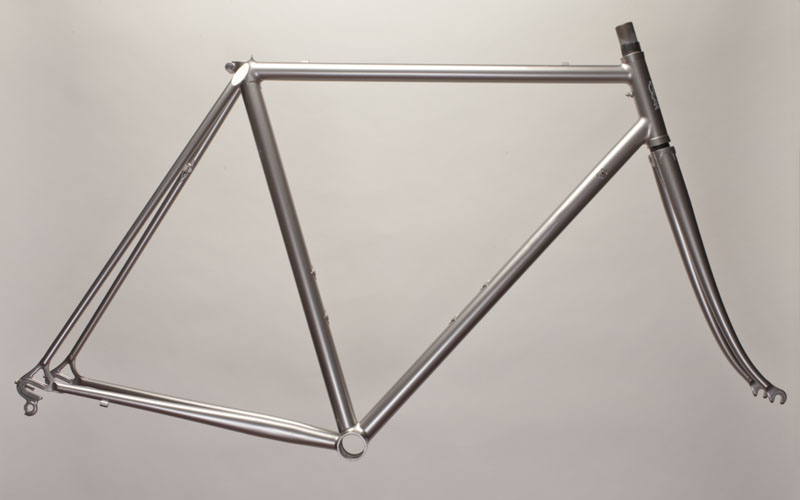 Base price, frame and fork: $2100
EBISU SPECIAL:
We have had increasing demand for high-end "cost no object" custom frames. The Ebisu Special offers a higher level of finish including hand finished llugs. Custom color and geometry is included at no extra cost. Racks, internal wiring and other special details are extra.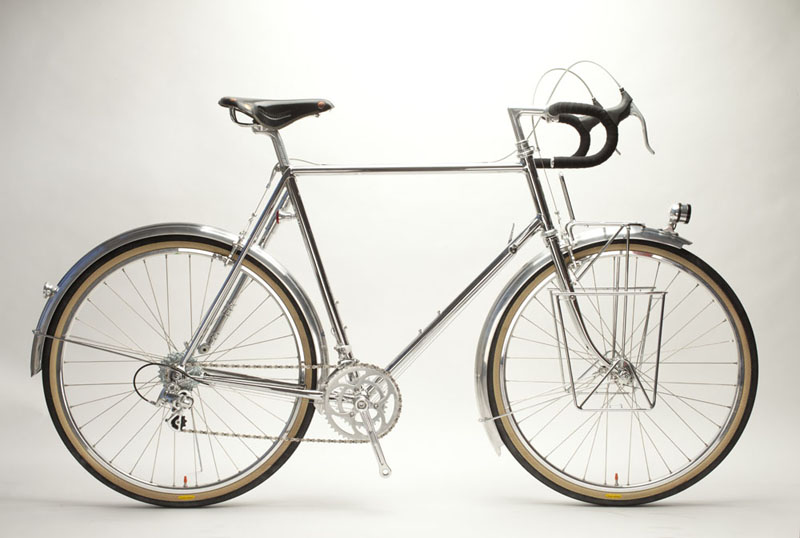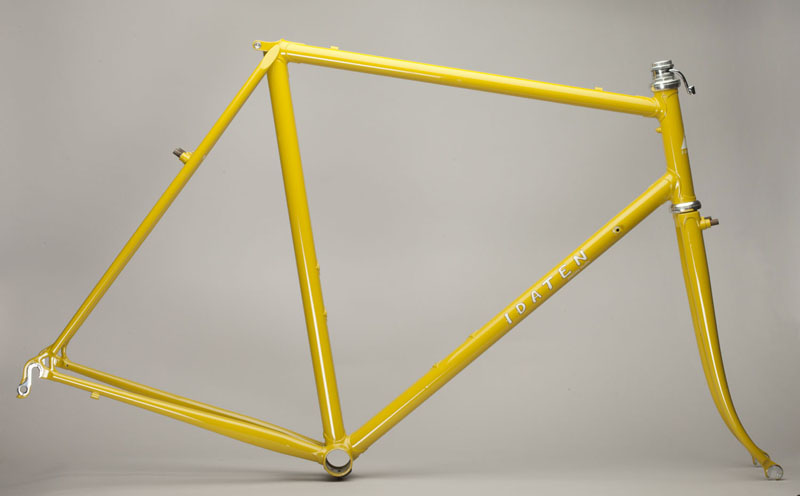 Here are some options only available on the Special:

Brazed-on centerpull brakes
Fully concealed frame wiring--this is different than what is offered on the regular Ebisu in that the wiring is fully concealed using our proprietary contact system to route it through the steerer and into the downtube without the wire exiting the frame. A bottom bracket or seat stay dynamo can be used, or a hub dynamo can feed a taillight.

Base price, basic frame and fork: $3900
OPTIONS for all the above frames:
Here are the starting prices for extras (special requests may cost more).

Basic front rack to support handlebar bag: $295
Front handlebar bag rack with attachment for headlamp: $345
Rear rack: $375
Front rack set for panniers: $495
Chrome plated frame and fork: $800
Braze-on centerpull brakes: $200 or more for all models except the Ebisu Special where these are no extra cost.


If you are interested in special tubing such as lighter gauge or a different brand, please ask. Hiroshi may decline certain requests if he feels they don't meet his requirements. Extra cost starts at $150.
Once all the details have been worked out, a non-refundable deposit will be required and your bike will enter production.
MORE PHOTOS SHOWING SOME RECENTLY BUILT UP BIKES